Amanda Slezak '22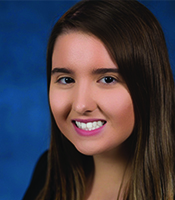 Hometown:
Johnstown, PA
Email:
ams9805@psu.edu
Legal Areas of Interest:
Government, Environmental Law, Energy Law
Undergraduate Study:
California University of Pennsylvania
Campus and Community Involvement:
Sports and Entertainment Law Society, Women's Law Caucus
A Dickinson Law Favorite:
I am the Public Relations Chair for the Environmental Law Society and the Secretary for the Business Law Society. I am involved in Women's Law Caucus, Public Interest Law Fund, and the Sports & Entertainment Law Society.
Why Dickinson Law?:
When I toured Dickinson Law, I could see that the students were not only supported but they supported each other as well. I could feel the sense of community within the walls of the Law School, and I knew that I wanted to be a part of that.
Internship:
I have interned for two semesters with the PA Department of Environmental Protection in which I was able to draft various litigation documents, including motions, briefs, and interrogatories. I also attended virtual hearings throughout my experience. In summer 2021, I worked with the PA Office of Attorney General in their Torts Department, where I drafted various litigation documents and attended depositions, status conferences, and hearings.
Favorite Course:
I really enjoyed Problem Solving I during my first semester of law school. In this course, we completed simulations in which practicing attorneys in the community watched us perform mock negotiations and client interviews and provided immediate feedback. This practical experience allowed me to work on skills I will use in the legal profession while also giving me networking opportunities within the community.
Advice for Prospective Law Students:
Make time for yourself! Keep up with your hobbies or interests outside of law school. It can be easy to fall into a routine where you forget to take care of yourself during the first year.
Something You Love About Carlisle:
I love all the great local restaurant options within walking distance of the law school. It is nice to be able to walk with classmates for dinner after classes and try different local places.
On Choosing A Law School:
Ask faculty hard questions when choosing a law school. This is a new chapter of your life and you need to make sure you end up at the right place for you. A law school's rank or other people's opinions do not matter. This is your decision, so make sure you ask all the questions you need to make the right decision for you.
You'd Never Guess That… :
I was a student athlete in undergraduate school and have played ice hockey my entire life. I am also the proud first female president of the Ice Hockey Club at my undergraduate school.