Allison Grady '20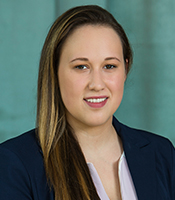 Hometown: South Amboy, NJ
Email: axg713@psu.edu
Legal Areas of Interest:
Family Law, Elder Law
Undergraduate Study:
Rowan University
Campus and Community Involvement:
Phi Alpha Delta, Student Bar Association representative, library employee, Westlaw representative, Bethesda Mission Legal Aid Clinic volunteer
A Dickinson Law Favorite:
I like that our Law School has a small, tight-knit community while still having many opportunities available nearby in Harrisburg. It makes you feel like you're at home when you're away, and I never feel like I have to worry about finding a job because of the opportunities available near us.
Why Dickinson Law?:
I chose Dickinson Law because I liked that professors knew us by name before we got here and that the faculty and staff were available to answer any of our questions. I knew I would perform best in a small classroom and at a school where I am comfortable to ask anyone for help when needed.
Internship:
I was an IOLTA Fellow with the YWCA Legal Center during my 1L summer. The YWCA Legal Center assists survivors of domestic violence with family law issues involving their abusers. I was able to work alongside my supervising attorney on a variety of family law cases, and I had the opportunity to conduct preliminary interviews with clients. Working directly with clients helped me understand the emotional issues and reactions people might have when dealing with real legal situations. It also made me realize the actual difficulties that accompany working in an emotionally demanding field. Through this internship, I was able to foster connections with lawyers in the Harrisburg area. I developed a strong relationship with my supervising attorney and was offered a semester internship as a certified legal intern with the YWCA again the following year. In that capacity, I was able to represent my own clients and continue honing my legal skills. I also met another private family law attorney in Harrisburg who offered me a clerkship position in his office.
Favorite Course:
My favorite course so far was Advocacy. We had the opportunity to work on three cases throughout the semester, which included both written and oral assignments. Not only did we focus on our writing, research, and oral advocacy, but we were also required to follow the procedural rules in our jurisdiction. We combined all of the skills learned in the first half of law school throughout the semester to effectively advocate for our "clients."
Advice for Prospective Law Students:
The first few days of school can be really overwhelming. If you focus and get through the work, you'll be fine. It's also important to get involved! I know I took a while to get involved at Dickinson Law, but once I got into it, I was so glad I did.
Something You Love About Carlisle:
I love the unique stores and restaurants.
On Choosing a Law School:
Where you go is where you will end up developing the most connections and where you will have the best chance of growing your career.
You'd Never Guess That... :
I'm the second youngest student in my class because I graduated college a year early.