Alana Goycochea '20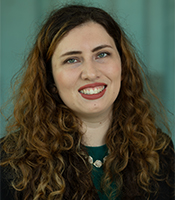 Hometown: Austin, TX
Email: axg686@psu.edu
Legal Areas of Interest: 
Energy Law
Undergraduate Study: 
University of California, San Diego
Campus and Community Involvement: 
Criminal Law Society, Environmental Justice Law Society, Women's Law Caucus
A Dickinson Law Favorite: 
I really enjoy all of the available extracurricular activities. They allow me to connect with the Dickinson Law community.
Why Dickinson Law?: 
I chose to attend Dickinson Law because I wanted to attend a school where I was more than a number. All of my professors know my name and are more than happy to answer questions.
Internships: 
During the summer after my 1L year, I interned with the Pennsylvania Department of Environmental Protection. This fall, I will intern with the Pennsylvania Independent Oil and Gas Association. These experiences are instrumental for learning essential legal skills and strengthening my network.
Favorite Course:
My favorite course was civil procedure because it gave me a strong grasp of the steps involved in a lawsuit. While initially it seemed like it would be my hardest course, Professor Terry did an amazing job making the material relatable. In addition, she was extremely patient with answering students' questions.
Something You Love About Carlisle:
I really enjoy living in a place that has four seasons and that has chocolate outlets.
Advice for Prospective Law Students: 
I would suggest taking some time before law school begins to reflect on your learning style and what works best for you. At the beginning of law school, it may feel intimidating when every one of your classmates studies differently than you. Try not to compare yourself to your classmates. I would also suggest taking some time in the summer to relax and read as much as you can for fun.
On Choosing A Law School: 
Research the alumni that live in the area that you think you may want to practice in, and reach out to some of them for advice. I think that you will find that Dickinson Law alumni practice all over the country and are very willing to offer advice to current students.
You'd Never Guess That… : 
I lived in Texas for four years.