Kristen V. Hardy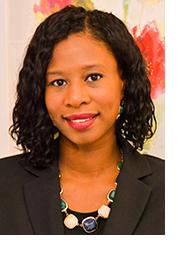 Adjunct Professor of Law


Email: kzh5692@psu.edu
About Hardy
Kristen Hardy teaches Federal Courts at Penn State Dickinson Law as an adjunct professor of law. Professor Hardy has extensive experience in federal court practice and has spent nearly a decade in service to the United States Courts as a career law clerk, where she counseled three different federal judges on many consequential issues of the day. Prior to that, she worked in private practice as a litigation attorney at a large international law firm.   
Professor Hardy received her J.D. from Columbia Law School, where she was awarded a fellowship from the American Association of University Women and was selected to serve as a Constitutional Law teaching fellow. She obtained her Bachelor of Arts degree, with honors, in English and Political Science from Stetson University, where she was selected as an Algernon Sydney Sullivan award recipient. She helped to create the Africana Studies minor at Stetson and was the program's first graduate. 
Professor Hardy also has extensive experience in the nonprofit sector. During law school, she worked with nonprofit organizations, community development corporations, and small businesses in the Greater New York City area through the law school's community enterprise clinic and Columbia University's Office of Government and Community Affairs. 
Professor Hardy has received advanced training in proposal writing and management from the University of Central Florida and has earned certificates in proposal writing and board orientation from the Edyth Bush Institute for Philanthropy & Nonprofit Leadership, Crummer Graduate School of Business at Rollins College.
Professor Hardy brings all of her experience to bear in the classroom as she equips her students with the tools needed to become effective federal law clerks and federal court practitioners.