Hon. John E. Jones III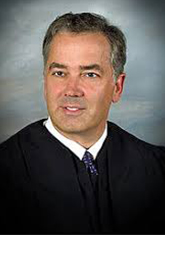 Adjunct Professor of Law
U.S. District Court for the Middle District of Pennsylvania
235 North Washington Avenue
Scranton, PA 18501
Email: jej13@psu.edu
Phone: 717-221-3986
About Judge Jones
The Hon. John E. Jones III is a judge for the U.S. District Court for the Middle District of Pennsylvania. Nominated by President George W. Bush, Judge Jones was unanimously confirmed by the U.S. Senate on July 30, 2002. Judge Jones has presided over a number of high-profile cases, including Kitzmiller v. Dover Area School District, the landmark case declaring that Intellectual Design cannot constitutionally be taught in a public school science class. In 2003 Judge Jones struck down portions of Shippensburg University's speech code on the basis that they violated the First Amendment's free speech guarantee. In that same year Judge Jones ruled, in a decision later affirmed by the United States Supreme Court, that the U.S. Department of Agriculture's statute assessing milk producers in order to fund advertising, including the Milk Mustache/got milk® campaign did not infringe the free speech rights of the producers. 
A recipient of the Law School's Outstanding Alumni Award, Judge Jones serves on the Law School's Board of Counselors. In May, 2006 Judge Jones was named by Time magazine as one of its Time 100, the one hundred most influential people in the world. Judge Jones has also received a Rave Award for Policy from Wired Magazine. In 2006 Judge Jones was the recipient of the first John Marshall Judicial Independence Award, given by the Pennsylvania Bar Association. In 2009 Judge Jones was the recipient of the Geological Society of America's 2009 President's Medal, and in the same year was inducted into the George Washington Spirit Society. 
In 2007 Judge Jones and the Kitzmiller case were featured in the two-hour Nova special "Judgment Day: Intelligent Design on Trial," televised nationally by PBS. In April 2008 "Judgment Day" won a Peabody Award, which is the oldest and most distinguished honor in electronic media. Judge Jones has also appeared as a guest on national television shows such as Today on NBC, the NewsHour on PBS, and C-SPAN's America & The Courts. He teaches Federal Criminal Practice.
---
"Our goal is to provide students with a window into the real world of federal criminal practice, with emphasis on practical tools rather than excessive theory. We do this through a mixture of our own extensive experiences as lawyers and federal judges, combined with presentations by top notch guest lecturers from every phase of the federal criminal process." – Quote about Federal Criminal Practice