Professor Dermot Groome participates in panel in honor of the late Judge Patricia Wald, former Chief Justice of the Court of Appeals for the District of Columbia
by Dermot Groome, Professor of Law and Harvey A. Feldman Distinguished Faculty Scholar
October 10, 2019 — Professor Dermot Groome participated in "The Role of the ICTY in Understanding War and Genocide in Bosnia and Herzegovina," a symposium held at Washington University in St. Louis School of Law on October 4, 2019.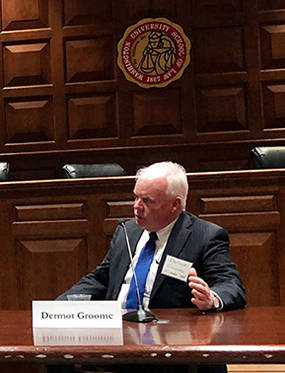 Groome spoke on a panel dedicated to the memory of Judge Patricia Wald, former Chief Justice of the Court of Appeals for the District of Columbia, who died earlier this year. After retiring from the Court of Appeals, Judge Wald became a judge at the International Criminal Tribunal for the former Yugoslavia (ICTY) where she served as both a trial and appellate judge.
Groome gave an overview of her important contributions to the law of genocide in cases such as the Jelisić Appeal Judgment and the Krstić Trial Judgment, which was the first judgement to find that the killing of over 7,000 men and boys in Srebrenica in 1995 constituted the crime of genocide. Groome placed these important judgments in the overall context of genocide jurisprudence and set out his views regarding why establishing genocide as a crime still presents significant challenges for prosecutors and courts.
Other panels included presentations from victims, historians and social scientists. The symposium concluded with a screening of The Trial of Ratko Mladic, the 2019 PBS Frontline documentary on the last trial Groome led as a prosecutor. The documentary will be screened in Carlisle on October 26, 2019 at Dickinson College as part of the Genocide, Justice and Hope event. Additional information can be found here.