Groome Attends Islamic Community of North American Bosniaks Meeting
By Professor of Law and Harvey A. Feldman Distinguished Faculty Scholar Dermot Groome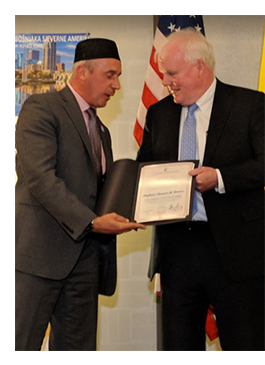 September 10, 2019 — I recently attended the annual meeting of the Islamic Community of North American Bosniaks held August 30 - September 1, 2019 in Minneapolis, Minnesota. At the gala dinner, I was presented with a Certificate of Appreciation for perseverance in the fight for justice by Grand Mufti Subahadin Ćeman. On September 1, I gave a lecture entitled "Investigating and Prosecuting Senior Political, Police and Military Leaders for Atrocity Crimes." The lecture was broadcast live in Bosnia and Herzegovina by HYAT TV.
It was an important opportunity for me to speak with Bosnian academics about their views on the Trial Chamber's judgment of Ratko Mladic. It was also an opportunity to meet with members of the very vibrant Bosnian community here in the U.S.
In light of the country's current discussion of refugees and whether American core values call us to respond in a particular way to people seeking refuge, it is useful for us to remember that 25 years ago, tens of thousands of Bosnians came to this country as refugees. A majority of them were followers of Islam. They have integrated into American communities across the nation and have contributed a great deal to our country. It was nice to share their stories of success here in the U.S. as well as their harrowing stories of surviving the genocidal and persecutory campaign directed against them.
I, along with other members of the Carlisle community, are organizing an event to be held at Dickinson College on October 26 during which Bosnian members of the Carlisle community will share their stories of surviving a genocide and building new lives in central PA. The Bosnian community is also hosting a reception of Bosnian food as an expression of thanks to their neighbors for welcoming them 25 years ago.