DICKINSON LAW PROFESSOR LUCY JOHNSTON-WALSH RECEIVES 2019 ACHIEVING WOMEN AWARD
April 26, 2019 — Clinical Professor of Law Lucy Johnston-Walsh received the 2019 Achieving Women Award in the Faculty category from Penn State on Friday, April 26, during a luncheon in the President's Hall at the Penn Stater Hotel and Conference Center, on the University Park campus.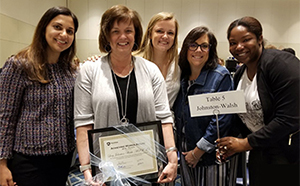 The Achieving Women Award recognizes Penn State women who have shown notable leadership and accomplishment in their fields and have gone beyond the requirements of their employment duties and responsibilities in support of the University's diversity efforts, promotion of equal opportunity, or contribution to human causes and public service activities. There are five award categories: Graduate Student, Staff Exempt, Staff Non-Exempt, Faculty, and Administrator.
"I am so humbled and very honored to receive this award," said Johnston-Walsh. "I love the work that I do, and it feels great to be recognized by the University for my efforts."
As director of the Children's Advocacy Clinic at Dickinson Law, Johnston-Walsh supervises law students as they represent child clients in court proceedings involving child maltreatment cases. She is also director of the Center on Children and the Law at Penn State.
Johnston-Walsh is also actively involved in the Carlisle community, having served on the Cumberland County Children and Youth Services Advisory Board, Cumberland County Court of Common Pleas Roundtable for Children, and a local working group for youth aging out of foster care.
"These committees all work to improve services offered to children in our region," said Johnston-Walsh.
She has also served on the Clean Air Board of Central Pennsylvania and a local community health foundation board.
Prior to directing the Children's Advocacy Clinic, Johnston-Walsh worked as a staff attorney at MidPenn Legal Services and as a policy director for a statewide child advocacy organization. Before earning her J.D. at Dickinson Law, she was a social worker in the Virginia public school system.
---
Clinical Professor Lucy Johnston-Walsh, second from left, received the 2019 Achieving Women Award from Penn State in recognition of her notable leadership and accomplishments in the field. Pictured with Johnston-Walsh are from left Medha Makhlouf, assistant professor of law and director of Dickinson Law's Medical-Legal Partnership Clinic; daughter and Penn State student Reilly Johnston-Walsh; Trisha Prosser, administrative support coordinator, in-house legal clinics; and Jada Ector '19, certified legal intern, Dickinson Law's Children's Advocacy Clinic.